I'm back to end the week with another round of Party Color Scheme.  This week it's all about Pantone's color of the year.  Have you heard of it?  Or do you have any idea what I'm talking about?  Every year, Pantone, the world's leading authority on color picks a color that they see as culturally significant.  This year the color is Greenery.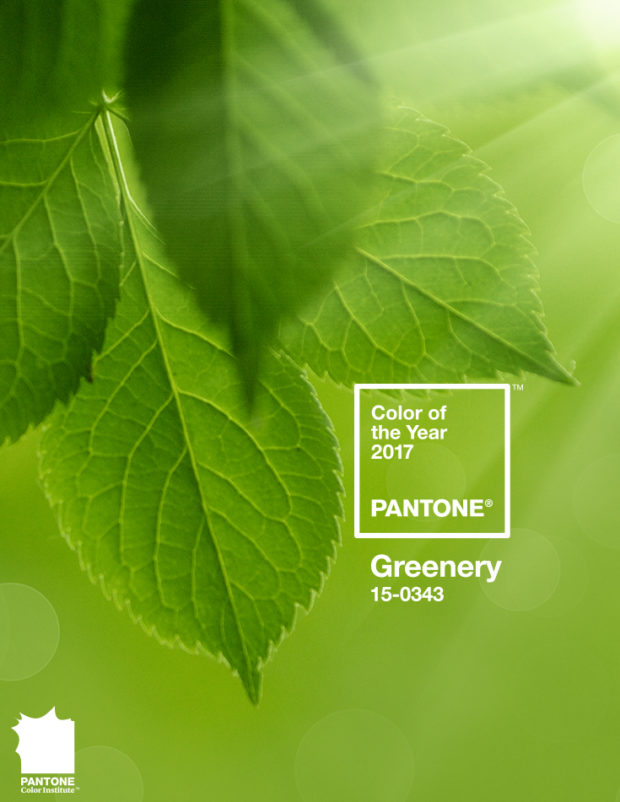 According to Pantone, greenery is a fresh and zesty yellow-green shade that evokes the first days of spring when nature's greens revive, restore and renew. Illustrative of flourishing foliage and the lushness of the great outdoors, the fortifying attributes of Greenery signals consumers to take a deep breath, oxygenate and reinvigorate.
For today's Party Color Scheme, greenery is the focal point, and I've paired it with some great color combinations.  I've included some inspiration photos and have lots of ideas of how to incorporate these colors into a party!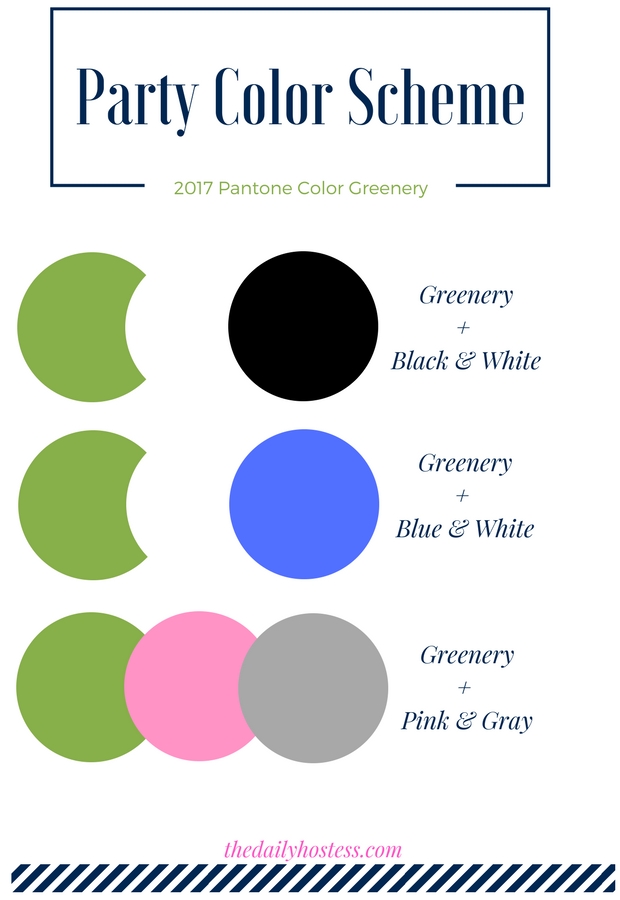 Greenery +Black & White
The first combination is a classic black and white with greenery. You can never go wrong with black and white as a base for anything really, a party, an outfit, decor, etc.  Here are some party inspiration photos to get your creative juices flowing.
I love the idea of black and white decor or furniture and using plants to incorporate the greenery color.  There are so many ways to use this color scheme for a party.
Tablescapes with this color scheme would be great for a dinner party or adult birthday party
Wrapping paper with green ribbon
Balloons
Black and White gift bags with green tissue paper
Greenery + Blue & White
Again, blue and white is a classic color combo, but mixing in the color of the year gives a fun, new, twist.
I've started to use more blue and white in my home decor, because I feel like it's classic and will last the test of time.  With this color scheme, it's so easy to mix in the color of the year through foliage, like on a mantle, in a vase, or even a throw pillow.  Try using these three colors for a party too.
Any nautical themed party usually includes blue and white, so mixing in some greenery in the form of foliage is a great idea.
How about a joint bachelor/bachlorette party with a Stripes and Plaid theme?  Women wear blue and white stripes, while the men wear green plaid.
A graduation party is a great time to use these colors especially if your school colors are blue and white.  Use blue and white balloons in front of a greenery inspired dessert table or picture backdrop.
Greenery + Pink & Gray
Another really fun color combination is mixing greenery in with pink and gray.
I think this may be my favorite color combination because it's more unexpected.  Here's how I'd use it in a party.
Gray table linens, with large green foliage and pink flowers in vases like the first inspiration photo
As a photo backdrop with gray fabric and faux flowers in pink and green similar to the second inspiration picture
As a Mother's Day brunch.  Ask all of your guests to wear pink, then make a table scape using gray linens and green dishes.
Sometimes all you need to start planning a party is a great color scheme.  Taking a cue from the color of the year is a great place to start.  Then mixing in a few other coordinating colors becomes really easy.
I hope you all have a great weekend!  We have snow in our forecast, boo!  But I'm celebrating a big milestone today and throwing a fun party that you'll get to see later.  For all the behind the scenes details be sure to check out my Instastories and Facebook page.