Happy Monday friends! How are you adjusting to the time change? I was so tired yesterday! I hope you've recharged a bit.   How about a free printable to help you get ready for your party faster and I promise it won't tire you out?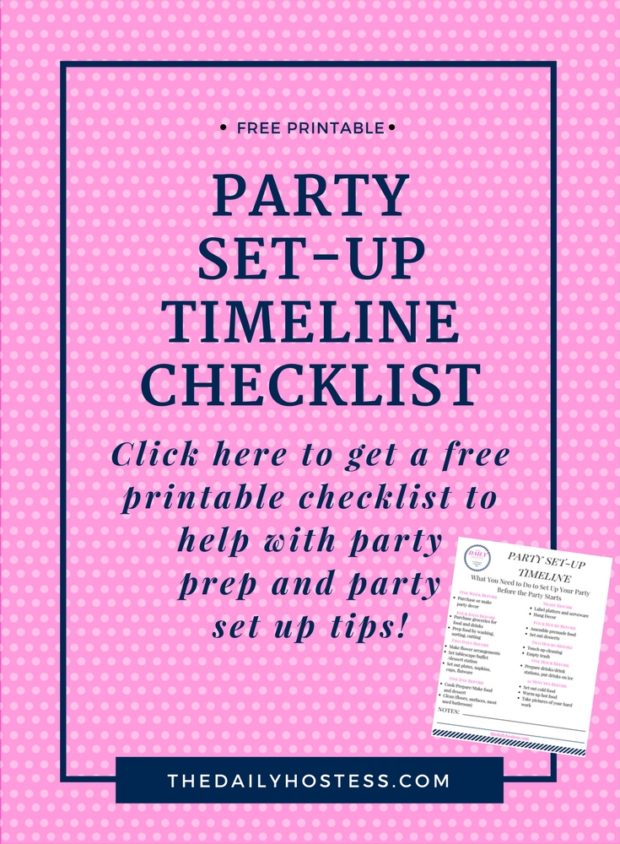 I find that anytime you search for a timeline or guide to help plan a party, everything you find doesn't give enough detail for what to do right before the party. I always find timelines that are months and weeks ahead of a party. But what about those of us that tend to wait until the last minute to get ready to celebrate?  Or just need to know what to do once the guests have been invited?
I like to have a to do list for each day and hour leading up to the event. Today, I'm going to help you do the same. I'm also going to give you some awesome tips that will help you get your party ready and be done before your guests arrive. No more rushing around when your doorbell rings.
One Week
By the time your event is a week away, you've probably already decided on a theme, invited guests, and have a plan for food, drinks, and decor. So now you need to start executing your plan.
One week before the event, purchase or start making your party décor. This will give you enough time to make homemade decor and not feel rushed to get it done.
If you plan on purchasing helium balloons, place the order now. Schedule to pick the balloons up a few hours before your event.
Four Days
Four days before your event is all about the food. By this point you've nailed down your menu and made grocery lists. So, purchase groceries and all the things you'll need for drinks.
Once you're home, be sure to prepare your food for the party. If things need to be washed, cut, or stored specifically for your party do it now to save you time closer to your event.
Two Days
A couple days before your event you'll want to start preparing your event space. To do this cut and arrange flowers if you're using them. Start decorating your tablescape or food/drink buffet area. This step is crucial because you'll need it set up now to prepare for other steps in the days leading up to your event.
This is also a great time to set out anything on your table or food station that isn't going to go bad in two days. Things like plates, cups, napkins, serving ware, flatware, and platters.
One Day
The day before your event is exciting! But there is a lot of work to do. First you'll want to start making any of the food you're preparing yourself. If it doesn't have to be freshly cooked prepare it today.
Storage containers, aluminum foil, and plastic wrap are your friend. Wrap up your prepared food and store it in your refrigerator until the big day. You'll have time to assemble and finalize recipes later, so use this time to do as much prep cooking as possible.
Once you've gotten your food prepared, it's time to clean your event space. I highly recommend using this method to clean for guests. You don't have to get carried away cleaning, focus on the areas that your guests will spend the most time. Typically, around the food and drinks, any sort of activity areas, and be sure to clean your most used bathroom.
Night Before
Are you ready for one of my biggest tips to party planning? The night before your event, label your platters and serving ware. It will save you so much time and energy. It also helps you plan out your table and spacing of food and everything else that needs to be on your table.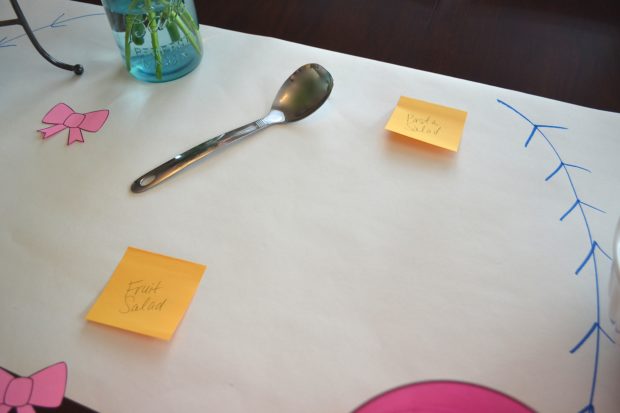 This is also a great way to help anyone that's helping you. If you hand your husband a bag of chips and ask him to put it on the table, he'll clearly see the bowl labeled chips and guess what? Those chips will be in the exact spot you want them to be. Amazingly reducing the amount of rework you'll have to do.
Also the night before is a great time to put up all of your party décor. Doing so now will free up so much time the day of your event. It's also a great way to see how well your décor is going to hold up. If you put everything up the night before and it has all fallen down by the morning you'll know that you're going to have to try some new ways to keep it up throughout your party.  Use this method to have everything you need handy and avoid running around after tape and scissors.
Four Hours
Whohoo, it's the day of your event! Let's get ready to party! At this point you are ready to go. Décor's done, most of the set up is done, guests are on their way, now to put the finishing touches on your party.
It's time to get all of that pre-prepared food together. This is the time to start putting salads together, mixing all your ingredients for dips, assembling sandwiches, or decorating a cake. It's so much easier because you've prepped everything the day before.
If you have food that needs to be baked or cooked do it now, so all you have to do is warm it up later.
This is also a great time to set up your dessert bar or buffet. It's plenty of time for your cake, cupcakes, or cookies to not get dry or melt. If you have desserts that need to stay cold, be sure to wait to put them out.
Two Hours
A couple hours before your party you should have almost all of your food taken care of, décor done, and desserts ready. It's the perfect time to touch up any cleaning that you did the day before. Whether that be giving your bathroom a once over, fluffing your couch pillows, or cleaning up any messes in the kitchen.
It's also a great idea to make sure all of your trashcans are empty and ready to be used at the party. Another great tip is to label your trashcans, especially if you plan on recycling. Cleaning recyclables out of a trashcan is not fun to do after a party.
One Hour
One of the last things to get ready is the drinks. Do this about an hour before the party so drinks are cold and ice hasn't melted yet.
Also be sure you have plenty of cups, straws, glasses, and a way to label individual glasses. Great options are a sharpie on plastic cups, wine charms or these drink labels.
30 Minutes
Now, right before your party you're going to want to just put the finishing touches on everything. This is when you'll want to pull out any food that has had to be cold or warm up any food that needs to be warm.
It's a great idea to use your oven on a low temperature setting, a warming drawer, or use a chafing dish with a warming flame under it.
Finally, my favorite part of party set up, is enjoying how your party and house looks before all of your guests arrive. It's a great time to take a few pictures of all of your hard work. Let's be honest, your house probably doesn't usually look this good, right?!
Congrats!  You're ready to party!
Here's a handy dandy printable to help you remember all of the things you need to do leading up to your party. Putting these steps in place will definitely help you be ready for your party more quickly and be set to go before your guests arrive.  Just click the picture below to download a copy for yourself.