Do you only have one oven?  I mean most people do and on Thanksgiving it makes roasting the turkey, baking pies, and cooking stuffing difficult to do all at once.  Plus, it's the biggest meal of the year.  There is so much to do and because you only make it once a year, it seems so much more difficult than the regular weeknight dinner.  Well, with a little planning, you can make sure everything on your menu is done on time and delicious.
I've created a simple cooking timeline printable to help you plan out the oven rotation to make sure everything is done when you sit down for dinner.  Just list out what you need to make and how long it'll be in the oven.  I always do this on Thanksgiving (even though my husband makes fun of me for it), and it helps me figure out the order in which to do everything.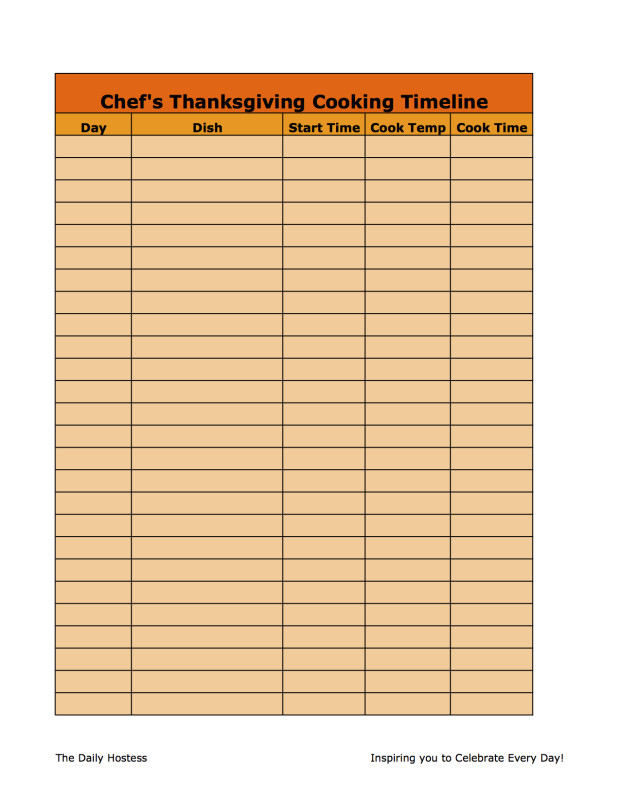 Just click on the image above to download your own copy of the cooking timeline.  Print it out and start planning!

If possible, start baking whatever dish requires the highest temperature, because it takes a lot less time for the oven to cool down to the next dish's temperature rather than waiting for the oven to heat up.

I hope this helps you plan out your Thanksgiving cooking schedule and have an awesome dinner!  Enjoy your time in the kitchen, and time with family and friends even more!