Welcome to The Daily Hostess!  I figured for my first ever blog post I'd make it really official by deeming it an inaugural address and showing you some pretty red, white, and blue Memorial Day party decor.  Don't worry I'm not trying to get all political #justaplayonwords.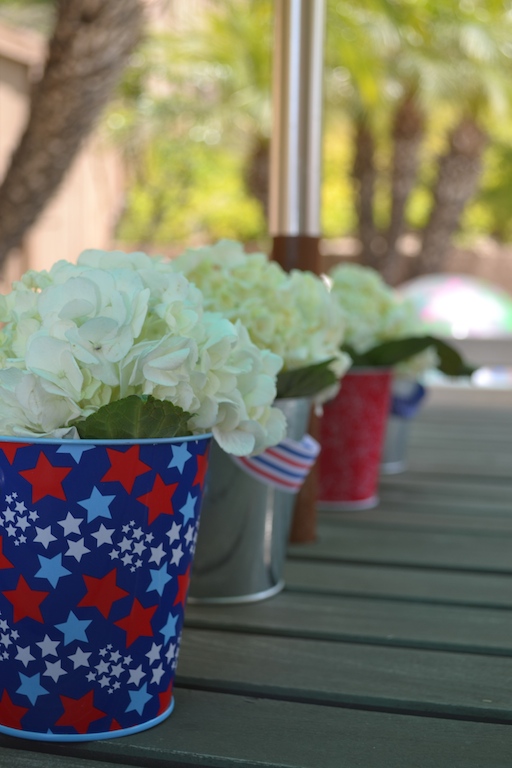 When thinking about what an inaugural address is I came across descriptions like a formal ceremony.  The president is supposed to use the inaugural address to inform the country of his intentions, so I thought it was fitting to inform you of my intentions with this blog. I believe that by setting expectations early it always proves for a more successful outcome, and I've seen this first hand in the Navy.
So, what are my intentions with this blog you ask? Well, first and foremost I want to inspire you. I love planning parties, making things pretty and special then inviting people into my home to share that with them. If you don't like throwing parties or having people over maybe I can convince you that it's not so bad and provide you with some encouragement and fun ideas along the way. If you love the same things I do, then I hope to inspire you to expand your horizons and push your creative boundaries.
I want this to be a place of inspiration, encouragement, and a celebration. You'll see posts about how to make every day things a little extra special, the party planning process, home décor, hosting guests of all walks of life, and maybe a few random thoughts thrown in for good measure.  I've done my fair share of home entertaining and I want to show you fun ways to host a wine party, dinner party, or a cookie exchange.  Maybe you have a pool and are throwing a summer pool party.  Let me give you some great ideas to make your party extra special.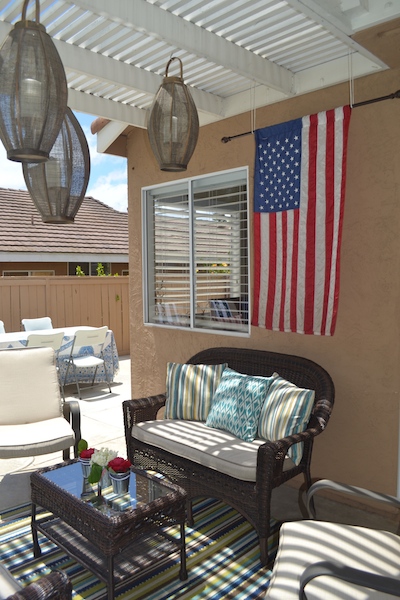 To kick off the summer this year my husband and I hosted a Memorial Day Pool Party.  We broke out the red, white, and splashed in the blue of our backyard pool.  To make the party truly a Memorial Day celebration we hung the American flag from our pergola using some extra rope we had lying around in the garage and a curtain rod that's not in use in the house.  If you don't have an extra curtain rod, no worries, use anything that can slip through the opening on the flag.  How about  a broom handle, semi straight stick from the yard, or take down the curtains from a room you know the guests aren't going to be in and use that.  Just remember to shut the door to the room if you don't want anyone to see your naked windows.
When our guests needed to lounge we provided them when some appropriately themed beach towels and a pillow to rest their head.  We grabbed the towels from Costco just a couple of days before the party.  I love them because they are HUGE (the towels are even bigger at Costco) and super absorbent.  I tried to stick with the red, white, and blue theme without being too kitschy.  Those red striped pillows can also be seen around here at Christmas time.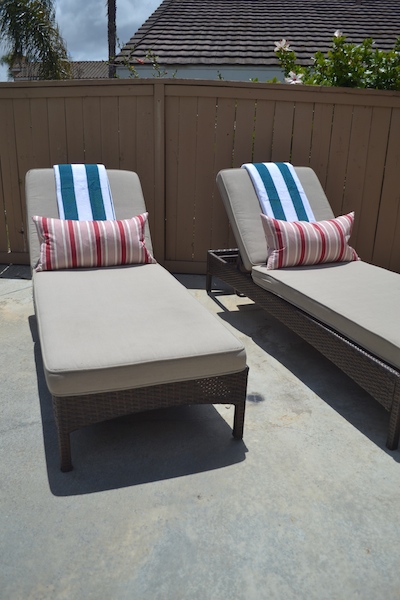 I love using thrifted silver trays to hold all the necessities of the drink station.  Plus it keeps the cups from touching possibly dirty outdoor surfaces, bonus!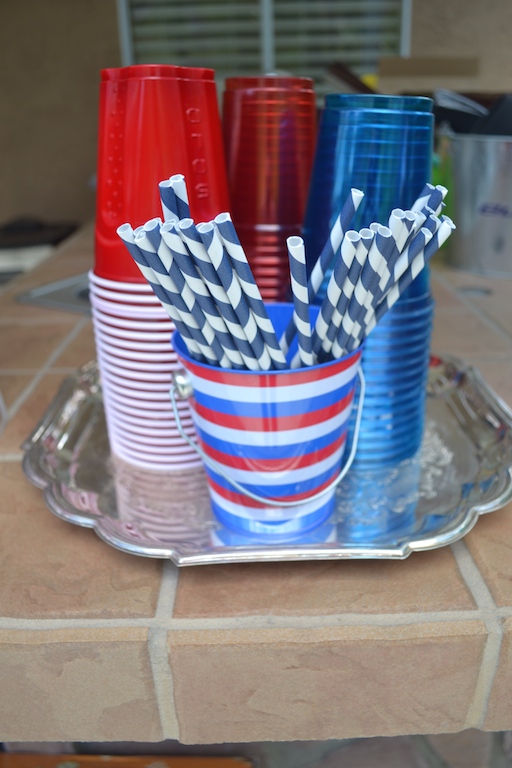 After that patriotic post I just want to say that this is the official opening of The Daily Hostess and the beginning of a new adventure.  Grab a glass of champagne, get inspired, and come celebrate with me on the journey and see where it takes us. I'm excited!